All you need to know about HR Outsourcing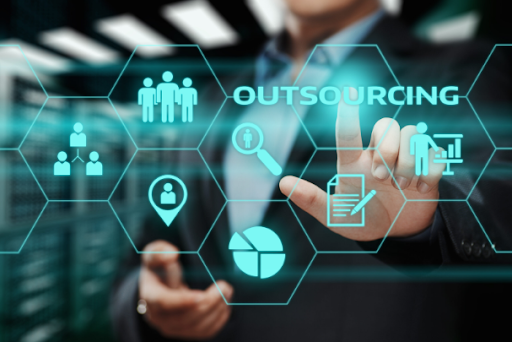 In any venture, the contributions of all departments count towards overall growth and sustenance. Regardless of the sector of a company, the functioning of the HR department is absolutely important. The HR personnel in a company look after myriads of tasks related to recruitment and employee management, continuously. However, in recent times, many businesses are taking a different route. Like many other operations, entities of varying types are opting for outsourcing their HR operations. Opting for HR Outsourcing agencies can be worthwhile. However, you need to know the nuances of such agencies and analyze the benefits your venture will gain beforehand.
Outsourcing your HR functions can be a game-changer for your company. Our outsourcing solutions are designed to provide you with the HR support you need, when you need it. We offer a range of services, including compliance, recruitment, onboarding, and performance management. Visit us today to learn how we can help you achieve your HR goals.
The basics of HR Outsourcing
The HR operations of a company can be outsourced to a third-party agency for improving and speeding up the procedure significantly. Human resources outsourcing covers a multitude of operations including daily employee-related chores to devising and implementing some long-term, strategic moves. Businesses in sectors like real estate, hospitality, ITes, healthcare etc often opt for HR outsourcing services and tie up with reputed RPO vendors.
Types of HR department operations that can be outsourced
A majority of HR department operations can be handed over to an HR Outsourcing services provider. However, businesses opting for such agencies still retain control over the core functionalities. Some of the activities that are typically outsourced to external agencies are:
Talent acquisition

Payroll processing

Candidate assessment for academics and job records

Workplace Safety policies

Employee attendance management

Employee benefits administration

Performance management

Employment Law/ regulatory protocol Compliance
The major benefits of using HR Outsourcing services
There are several advantages of outsourcing HR operations and these are:
Suits businesses on the growth track
For businesses that are on a growth track, cost–cutting is a prerequisite. Such ventures can save a considerable amount of money by signing up for the services of an external agency to handle its HR operations. This can also be suited for mid-sized ventures.
Helps in saving resources 
When the HR operations are outsourced to a professional and external entity, the organization can save on resources. There is no need to keep a dedicated wing for JHR activity handling. The setup for deploying an in-house HR team will not be required as well. Businesses reeling under the financial impact of the ongoing pandemic will gain from implementing such cost-cutting measures, surely.
Augmented efficacy
Many entities opt for HR Outsourcing Companies to augment their overall operational efficacy. The external agencies offering such services are capable of developing customized plans and applications to fulfill client company needs. As the external agency handles most nuances of HR operations, the other departments can focus on their core activities. This leads to a boost in overall productivity. 
Ensures better compliance
For businesses belonging to specific sectors such as healthcare, pharmaceuticals and insurance, complying with certain legal protocols and standards becomes necessary. There are regulatory protocols like HIPAA these companies must abide by or they may face serious consequences. Veteran HR Outsourcing agencies are well-versed in meeting such needs for their client companies. They help in developing suitable employee policies and workplace norms so that clients can comply with the regulatory standards well.
Boosts recruitment workflow
If handling recruitment processes in the company are proving to be tedious, it is time you look for the top HR Outsourcing Companies. These agencies are experts in handling all tasks related to recruitment. Typically, the top HR service agencies have tie-ups with leading job portals and so finding and supplying apt candidates for the client company is easy for them. They look for apt candidates for various posts, screen them and perform required verifications. The client company can be assured of the supply of the right candidates.
Enhances payment processing systems
There are various payroll models in place in various organisations. Some companies only need to process the payroll system of their own workforce. However, there are others who hire contractual employees and freelancers and disbursing their payments in time is a necessity. Making payments to various vendors associated with a company is also a prerequisite. By opting for HR Outsourcing Companies,  businesses can evade complications involved in multi-tier payment processing. 
Increases employee satisfaction and retention
When you hire a capable agency for handling the HR operations of your company, employee satisfaction goes up. The external agency ensures employees get paid on time and deserving ones are rewarded as per their competence and performance. It also becomes easier to maintain transparency in maintaining and deploying employee policies in the organization. This, in turn, helps improve employee retention rate.
Potential Deterrents to HR Outsourcing you need to know
A section of businesses hesitate to outsource their HR operations as they apprehend doing so will expose them to some risks. These include:
Sharing of vital company data
Some businesses are skeptical of outsourcing HR operations as that will amount to sharing company data with an external agency. 
Communication gap
By hiring a third-party agency to handle HR operations, a gap can form between the company management and the workforce. 
Not enough customization
Some HR Outsourcing agencies offer a set of predesigned services or packages for clients. This may not suit some clients who seek better customization of services.
However, on finer analysis, the advantages of outsourcing human resource operations outweigh the drawbacks by a margin. The success depends on picking credible and professional Outsourcing agencies for handling HR activities.
Ways to assess and select the right HR outsourcing partners
When you decide on outsourcing HR operations to an external entity, hiring a suitable agency is necessary. Given the fact there exist plenty of such agencies, you have to assess the contenders aptly.
Here are the factors that you must analyse carefully to ensure the best HR Outsourcing company is selected for your venture:
Tenure
It is logical to opt for the services of an external HR outsourcing company that has spent a long time in this sector. A veteran agency is likely to live up to your expectations better.
Versatility
Typically, companies specialising in HR outsourcing services have pre-designed packages for their clients. However, it is better that you hire an agency that offers adequate customization in its packages. This is prudent as every company has specific HR operations and workflow. 
Service terms
Before finalising a company for outsourcing HR operations, ensure you know its service terms well. Look for any exclusions or terms that may not be suited for your company's HR operations. This will help in evading problems afterward.
Client base and feedback
To fathom the viability and credibility of agencies offering HR operation outsourcing services, you must check its client base and their reviews. Ideally, you should opt for an agency with a big clientele. In fact, you may look for agencies catering mostly to clients belonging to the same industry as yours. Utilise the top social media services to find what the clients say about such agencies and their service quality etc.
Response type
You can learn a lot about the suitability of an HR operation outsourcing entity from the way it interacts with you. Regardless of the channel used to place an inquiry, a professional agency will not delay in reverting, to start with. Such an entity will also explain its service nuances and discuss aspects like pricing model, customization possibilities etc. Evade any agency that seems too eager to sign you up for its packages and tries to evade queries.
Communication
It makes sense to choose an agency for handling HR operations that is robust on the communication front. An agency that communicates with its clients using multiple means like email, phone and live chat should be preferred.
Hiring an external agency to manage the HR operations of the company can be quite beneficial for boosting employee retention, easing recruitment and remaining on the growth track. However, assessing the various HR Outsourcing Companies and zeroing in on the apt one is what matters. Ensure you clarify your doubts before signing up for the services of such specialised entities.