Full Cycle Recruitment: Your One-Stop Guide
In any organization, paying attention to recruitment operations is a prerequisite, regardless of its niche and size. As per their needs and growth plans, businesses resort to various recruitment methods, as it is. It is quite commonplace to see entities handling a part of their recruitment workflow and there are others handling all recruitment activities internally, too. Businesses with ambitious growth plans and a focus on handling recruitment in the best way, opt for Full Cycle Recruitment.
Also known as end-to-end recruiting, this is a holistic and comprehensive recruitment process that involves detailed and meticulous planning and execution of recruitment operations, often segregated into specific stages. This is handled by a skilled HR professional in small-sized entities while larger companies keep a dedicated recruitment wing for managing these operations. Nowadays, businesses are relying more on the expertise of ace recruitment entities for planning and deploying the Full Cycle Recruitment process.
The Basics of Full Cycle Recruitment
In end-to-end recruitment methodology, the operations are typically divided into some stages or phases. The company then carefully plans each phase before the execution can take place. These phases are-
The first stage in Full Cycle Recruitment involves collecting information from various relevant sources about the recruitment needs and goals of the organization. This requires detailed discussions and brainstorming sessions with the company management and its recruitment/hiring team. The recruiter discusses and analyses aspects like overall recruitment needs, skillets for required candidates, nuances of the selection process, technology to be used etc. The insight that they gain from the detailed analysis is used to frame job descriptions and specific candidate profiles.
After the 1st phase of Full Cycle recruiting is done, the recruitment consultant focuses on sourcing suitable candidates for various designations. This can be complex, based on the client company's hiring requirements. If the company needs to hire candidates for filling up the vacant posts, sourcing candidates is relatively easier and faster. However, for businesses that plan to recruit candidates for both short and long-term needs, sourcing has to be done more carefully.
 Sourcing the candidates is done using multiple online and offline sources, including:
Ø  Traditional job posting through newspapers
Ø  Online job portals
Ø  Popular social media platforms
Ø  Professional networking platforms and forums like LinkedIn
Ø  Job fairs and university campusing
Ø  References of existing employees
Ø  Talent pool of the recruitment partner
In this phase of Full Cycle Recruitment, the recruiter keeps the client company or its hiring team updated about the ongoing developments. 
After sourcing, the candidate screening process begins. In most instances, screening is done through multiple phases and both manual and software-based measures are involved. The screening methods involved in Full Cycle Recruitment process include:
 

Resume screening
It is a commonplace yet vital method in screening candidates. The hiring consultant uses submitted resumes to prepare a basic list of applicants matching key criteria for various posts. Here, it's vital to analyse the skills thoroughly rather than getting carried away by mere skill lists.
2. Phone -based screening
After shortlisting candidates based on their resumes, recruiters usually arrange for telephonic screening sessions. This crucial step helps the hiring partner shorten the ambit among shortlisted candidates. Potential loopholes in the candidates can be found through telephonic round screening. They assess the feasibility of candidates for specific job profiles and cultural compatibility with the client organisation at this step.
3. Software-based screening
Nowadays, recruiters are also resorting to specialised software applications to screen candidates for various jobs in client entities. They use this method to accelerate recruitment and screening process and aid the hiring partner staff. Applications used most extensively for such needs include ThriveMap, Workable, Zoho Recruit, iCIMS etc.
This phase in Full Cycle Recruitment can be pretty elaborate. The process involves steps like arranging multiple rounds of interviews, sending assignments, and giving feedback to selected applicants. Top recruitment consultants also revert to rejected applicants, keeping a window open for future needs. Again, recruiters keep the hiring manager/ HR wing in the client company updated about the developments. 
A major aspect of the selection process is scheduling interviews and executing these in the right way. There are multiple rounds of interviews. Based on the need, it can be face-to-face or video interviews, or a mix of both. These interview sessions help the recruitment partner pick the final batch of contenders. The client company takes the final call on the apt candidates eventually. As the interviews lead to further shortening of the selection ambit, the recruiter firm sends updates to the client. This helps the client prepare well for onboarding while selected candidates get a hang of things.
After the interviews are wrapped, the hiring consultant and hiring team in the client entity set their focus on pre-hiring assessments. This is the time to assess and verify the background of selected candidates thoroughly. Recruitment agencies usually ask selected candidates for references at this phase and check their academic qualifications, past employment records etc. They want to analyse the suitability of the candidates for specific roles well. Also, it is important to assess certain legal and financial credentials of candidates to thwart risks of the client entity.
After the verification is over, it is time to hire the eligible and most suitable candidates. At this stage of Full Cycle Recruitment, the hiring manager/ team of the client company comes into the forefront. The recruiting consultancy is heavily involved, though. During the hiring, cross-checking with the candidate profile prepared during the 1st phase is a prerequisite.
The final stage of Full Cycle Recruitment process is Onboarding. This stage involves the time between selected candidates accepting the job offer and joining their roles. The recruitment partner keeps in touch with the selected candidates and helps them stay engaged well. This is necessary to keep them interested in the job as well. In the IT sector, instances of people trying after multiple jobs at once is commonplace. Instances of selected candidates declining the job offers at the 11th hour is also not unheard of, as per SHRM data. Some recruitment agencies make use of Onboarding software to streamline and simplify the onboarding process.
Major benefits of using Full Cycle Recruitment
Businesses resort to Full Cycle recruiting owing to several benefits. These are:
By appointing a dedicated Talent acquisition firm to handle all nuances of the recruitment process, businesses can reduce the hassles involved. They can also focus better on their core operations.
Outsourcing the entire recruitment operations to a dedicated recruitment entity proves to be cost-effective for most entities. They just need to pay the charge of the hired RPO entity and keeping a big in-house recruitment team is not required. As the apt candidates are sent, the risk of attrition and spending after candidates who are not likely to continue for long are reduced. From the ROI perspective, full cycle recruitment makes total sense.
Inflow of candidates with right skills and aptitude
This is possibly the most important benefit of resorting to the Full Cycle Recruitment process. Businesses get the supply of the most suitable candidates for any post since all the recruitment tasks are planned and handled by a veteran consultancy. Such an entity has the expertise to screen and send apt candidates and they also have huge talent pools to pick from. They get candidates with required qualifications, aptitude and experience for all vacant posts.
Outsourcing entire recruitment operations proves to be safe for businesses, too. The Talent acquisition firm performs the necessary background verifications of the candidates. So, client entities need not worry about allowing new recruits to access important company data. IT companies dealing with crucial data can relax about not hiring candidates with improper credentials and dubious candidacy. 
Better candidate readiness
Candidates supplied by the recruitment firm offering end-to-end recruitment services come better equipped for their roles, usually. The hiring partner usually offers required readiness and expectation setting to the selected candidates during the onboarding stage and enlightens them about the client company and their roles. So, the client company needs to work less on preparing the newly recruited candidates.
Selecting the right partner for Full Cycle Recruitment needs
The benefits of hiring an RPO consultancy offering end-to-end recruitment services are significant. However, businesses should be careful about signing up with a suitable contender in this regard.
Listed here are the major aspects to check when hiring a recruitment partner offering Full Cycle Recruitment package.
Before signing up for an RPO firm for comprehensive recruitment needs, checking its tenure in the sector and credibility is necessary. A contender with a stellar track record and the experience of dealing with clients of varying sizes and types should be chosen. Hiring partners catering to both startups and big ventures and resolving numerous recruitment issues successfully should get the priority here.
Ideally, businesses should look for end-to-end recruitment service agencies with diverse and growing clientele. They can do this by checking the website of the consultancy firm well. Also, they can go through client testimonials of such hiring boutiques.
Before signing up with an entity offering comprehensive recruitment services, businesses must understand their methodologies. It is necessary to inquire about the stages used by the hiring entity in recruitment. It is also necessary to find out the technologies and tools used by such agencies for various recruitment needs.
Reliable and professional RPO agencies offering Full Cycle Recruitment services explain their operational nuances to client entities. They will not hesitate to explain their service terms either.
Full Cycle recruiting is a cohesive and multi-stage process that encompasses all nuances of hiring the right candidates. Apart from identifying and qualifying the apt candidates, it also involves preparing them for specific posts. Owing to its well-planned nature, it proves to be useful for all parties involved- the client company, the RPO firm and the candidates, eventually. However, hiring the right hiring boutique offering end to end recruitment service is also vital.
PeopleNorth is a leading player in the RPO segment, known for its solid and meticulously planned Full Cycle Recruitment package. Its detailed research, meticulous recruitment strategy planning, multi-level assessments, and in-depth candidate engagement make things better for both the clients and selected candidates. So far, it has catered to end-to-end recruitment needs of numerous clients, from diverse sectors successfully.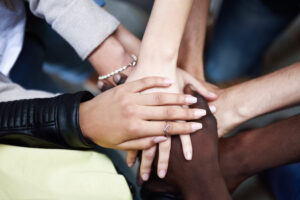 Diversity hiring strategy can help your business gain from enhanced productivity and improved branding. Framing a suitable policy is vital.
Read More »